Finding an apartment isn't easy. Every time you are looking for a new apartment, you are probably in a different situation. Whether you are looking to increase your savings, living alone after living together with roommates, moving in together with your significant other, or maybe you have more money in the bank because of a promotion. Whichever situation you are in, every time you are looking for a new apartment you have to have a conversation with yourself on how much you are willing to pay for all the extra fancy stuff an apartment complex can have that they build into their rent price and admin fees.
Throughout the list below, I'll let you know what standard vs. premium is – hopefully, this will help you determine if you must splurge. These tips are split into two categories: 1) apartment complex's community amenities and 2) within your apartment amenities.

Read about apartment amenities here.
Community Amenities

1. Standard Gym vs. Premium Gym

A standard gym would include your basic cardio equipment (like treadmills), mats, limited strength equipment, and some weights.
A premium gym can range from full cardio and strength equipment to also including steam and sauna room. It may also include a virtual fitness room where there's a touchscreen TV, and you can choose whichever workout you want (including indoor cycling, yoga, pilates, etc.). The fanciest gyms will have clean towels you can use and dispose of before leaving the gym.

So what should you do?

If you have a current gym membership and fitness is vital to your lifestyle, you might want to consider canceling the gym membership and picking an apartment with a gym you like, so it is just part of your rent.

If you don't like going to the gym because you prefer running outside or you do at-home workouts, I'd advise to be OK with a standard gym and find a place that checks off the boxes in other areas i.e., high ceilings, gourmet kitchen, more SQ feet, etc.

2. Stairs vs. Elevator

Yes, stairs are fantastic for a healthy lifestyle, but when you live in Texas, and the sun is intense AF, an elevator (for me) justifies for great apartment amenities. When you live at an apartment with staircases and live on the third floor, you'll have a work out every day (which is not a bad thing).

If I were to live alone, I wouldn't want the stairs because 1) lack of security due to not much lighting at night and 2) it's challenging to move large packages up and down the stairs. My first apartment in Austin, Texas was at Gables Park Tower, and I felt super safe there living alone because the elevator was already inside of a secured building.

Pro tip: Check if they have a separate freight elevator to help move-in huge items during move-in day. If they don't, measure and double-check your furniture can fit in and around the elevator and into your home. I have an extremely long white couch, and with our previous apartment, it was almost impossible to get into the apartment. But with a small rip at the edge of my custom couch, is the price I had to pay for not calculating the space before signing the lease.

3. Packages at Door vs. Concierge

Depending on each apartment's security system, you may receive packages in different ways. You should know your preference so you can rule out some places (or deal with the new change) if it is a dealbreaker.
Live in a secure building with a 24/7 concierge that holds special packages for pickup & allows for mail delivery services to be sent up to apartments to deliver packages straight to tenant's front doors.
Live in an open building (with stairs) or a first-floor townhome where packages are delivered straight to your door.
Live in an open building (with stairs) that have a package locker room that you have to go to pick up your mail.

I am loving the new system that's being rolled out nationwide of the locker room. How this works is if your apartment has this new system, you order a package as usual, and the package will be delivered to the locker. Then, as a resident, you'll receive a package notification via email, text message, or phone call. To retrieve your package, you enter your username or scan your key fob or barcode. You are then entering your PIN. All lockers containing your packages will automatically open. This system is SUPER convenient because it allows you to get your package delivered securely with 24/7 access. In other words, mail delivery services don't need to rely on when the leasing office/concierge is open AND doesn't have to rely on not being able to get into your locked building.

4. Dumpster vs. Valet Trash
Standard open buildings will save both you and the apartment complex money by making everyone throw their trash away at the dumpster sites around the complex. It's not so bad when the dumpster is nearby.
The premium way of new apartments dealing with this is valet trash & recycle bins, where you pay a monthly fee. Apartments who have this service will provide you trash and recycle containers (so you don't have to buy your own). It's straightforward and convenient – they collect every day except for two days. For example, for our apartment, they collect every day except for Friday and Saturday between 6-8pm. They do ask though for the trash container to have a trash bag liner that is tied and for the recycle container to be bagless. There is usually a weight limit on your trash bags i.e., 25 lbs are pretty standard. Also if you have cats, like us, they ask for you to double-bag all cat litter.

5. Open Parking vs. Designated Parking Space

Parking solutions can be frustrating for yourself and your guests. If the apartment doesn't give out guest spaces (especially if you live in a city/downtown area), it's hard to have folks over, and you feel bad that they would have to pay to park in a parking garage or on a side street.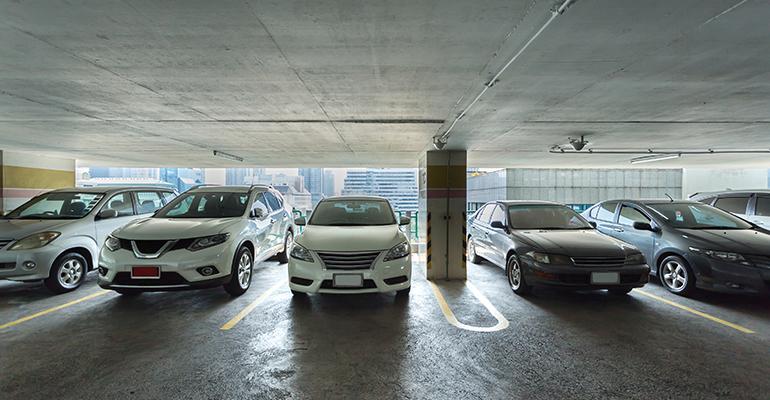 Apartments downtown usually have a parking spot within a garage for tenants only. If you have frequent guests coming over, I would suggest you to ask the apartment complex what are there parking solutions for guests. Some may be creative i.e., $10 to park for 2-4 hours, rather than $20.

If you are looking to live in an apartment in the suburbs, usually it's all open parking lots. However, there may be designated parking spots for your car. But other apartments, like our current one, is first come first serve. This can be a dealbreaker for some, but have a look around and see if there is plenty of parking spaces for residents and guests.

Also, if you want to go super-premium, apartments (not in downtown) have different parking options. You can pay a monthly fee for a carport parking spot in an open parking lot. Or, you can upgrade even more so by paying for a detached garage (which is a private garage spot that is NOT part of your apartment). This might be a dealbreaker with someone who has a fancy, luxurious car.

6. Park-Style Outside Grills vs. Premium Grilling

If you are planning to grill at all during your stay at an apartment, you might want to ensure that the apartment complex has a premium grilling station. If you are opting in for a park-style outside grill, it's pretty manual.
For me, the park-style outdoor grills are too small and hard to serve 6+ portions of meat. Most apartments will have a gas grill near their pool that you and other residents can use.
---
Life is a journey and you'll be changing different apartments for different reasons! Even though it is temporary, it's so important to understand how to pull back on any luxuries and ask yourself if you really need "x". Have a look at the rest of my Apartment Hunting Tips collection of articles that will help you narrow down your search even more!