Lai Lai is the only restaurant I have found in Austin that makes an extremely common dish in South Korea. Jajangmyeon 짜장면 and Tangsuyeok 탕수육 are South Korea's favorite Chinese Korean food.
Right when you walk into H Mart's Market Eatery (food court), it's the third vendor on the left. Can't miss it!
Lai Lai checks the mark for when you are craving for the pairing of Jajangmyeon and Tangsuyuk, but it isn't the BEST. For the best, you have to take a trip to South Korea and eat it there. I'd rate it 7.5 out of 10. But it's the only option in Austin, so I'm not complaining. It's tough to find a restaurant that serves both in the suburbs in the USA.
Jajangmyeon 짜장면 is noodles covered with black sauce. It usually has some pork meat and vegetables as part of the sauce.
Tangsuyuk 탕수육 is Sweet and Sour Beef or Pork. Sounds familiar? Yeah, there is a Korean Chinese version that tastes VERY different from the Chinese American version.
They are both sweet and sour, but the breading and meat cuts are different. Also, more vegetables are included, such as carrot, onion, cucumber, and wood ear mushrooms.
---
Below is a quick Google map on how to get to H Mart and this restaurant has been added to my Austin Collection on Yelp for easy access on the go!
😎 Here are some fun facts to know about Jajangmyeon! 😎
Culture note #1: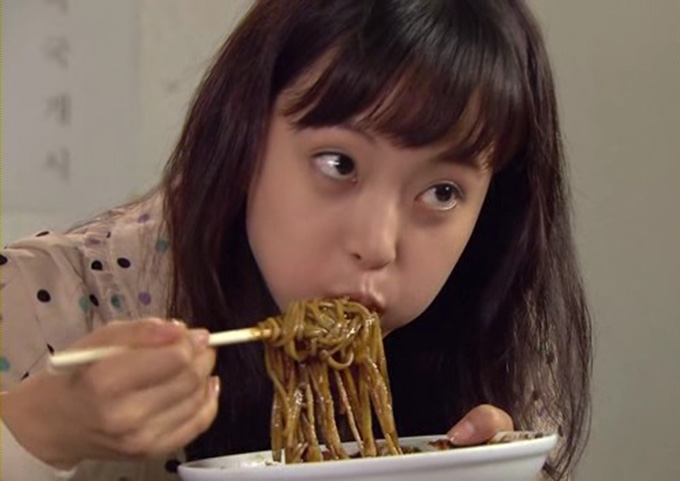 Jajangmyeon is a popular choice on April 14 every year, which is an unofficial holiday, for singles. Valentine's Day on February 14 is a day for people to give chocolates and other gifts to celebrate their love or a growing love interest. However, on Black Day, those who did not receive any chocolate gifts and are lacking intimate relationships will eat Jajangmyeon.
Culture note #2:
In South Korea, when you are moving to a new home or apartment, there is a custom where you order Jajangmyeon and get it delivered to your home, rather than eating out. This is due to your kitchen, not ready, organized, and cleaned yet. Getting food delivered in South Korea is different where once you have finished your meal, you just leave the rinsed dishes outside your apartment door. The restaurant delivery person will come back and pick it up at a later time of the day.
---
Further reading & recommendations: