Quarantine gifts are the latest trend to show your friends and family that you are thinking of them – whether it's because they are spending a birthday alone, live alone, or simply because you can't hang out with them face to face. With the new norm of social distancing at a global scale, we depend on eCommerce and packages more than ever.
The best thing about being a shop owner is carefully designing a collection that is relatable. Here are 10 quarantine gifts that people in my store are buying for their loved ones! Whether you are looking for something funny, thoughtful, or simply a PSA message when walking around a grocery store or as an essential worker, there's something for everyone.
All shirts are UNISEX fitting, so it will fit with any body build 👍 Looks awesome tucked into jeans, with sleeves rolled up or just loose!
This saying "It's fine. I'm fine. Everything is fine." is so popular now due to the lockdown and is quite the fitting quarantine gift shirt if you ask me! During this time, everyone's anxiety has been heightened and more than ever, we need a subtle daily reminder that whatever crazy sh*t we see on the news or what is trending on TV, including the cold cases initiated by Tiger King, that everything will be fine.
We live in modern-day society, and there is hope that we will and can overcome this.
I love how chic this shirt design is and even the emphasized "everything" is trendy with its handwritten font. I used a thin font for the rest of the shirt to show how minimal we like to express our anxiety, but when emphasizing "everything" it show's that we are trying to keep our emotions under control and to get on with our day.
A lot of folks have been gifting this for themselves and buying one for their friends, sisters, aunt, and moms.
Get it from LiveLearnDreamShop on Etsy!
Available in sizes Small to 2XL.

2XL is no extra charge, even though I get charged more to create it, I don't believe in charging different prices because of different body sizes. That's just not ok. 👍

Cee @ LiveLearnDreamShop
Know someone who has the travel bug and they are itching to go out there and explore? Yup this is the perfect souvenir. It's a kind gesture to a friend or family member who you haven't seen in awhile that says "I got you. I remember what we talked about in our last FaceTime or Zoom call".
I'm no stranger to this. I'm already creating travel plans and guides and feeling the sentiment of "Let's travel the world. When this is over."
It's a great quarantine birthday gift that's budget-friendly and relatable AF! 🙌
To be honest, when designing this shirt, at first I only had "Let's travel the world" as a positive reminder that that's even a thing. But when the pandemic was hitting hard on mainstream media, I couldn't help but add something to make me relate to how I was feeling at the time. It's a shirt to remember my strong emotions to travel but can't until international travel borders reopen.
Get it from LiveLearnDreamShop on Etsy!
3. Social Distancing. If you can read this you're too close.
Alright fellow introvert friends, let's be honest. Confronting isn't really a thing, at least not in person anyway. This is a PSA message to everyone in the grocery store that if they are reading your shirt and aren't 6 feet away, this is a little reminder for those to back away… silently.😂
This shirt design really speaks to me because it honestly breaks my heart that states are reopening early. Tomorrow on 5/1, Texas will be reopening and IMO it is WAY too early to do so!! I live in Texas and as much as I want everyone to prosper with their businesses and get back into a routine, we aren't helping when we haven't defeated the virus yet here.
So anyway, I call this the Unofficial Quarantine Uniform. If you know someone who is going to be out and about a lot because they have no other option but to do so because unemployment benefits are dried up, this is a great gift for them to help protect them in public.
Get it from LiveLearnDreamShop on Etsy!
4. SIX FEET PLEASE.
Ok maybe you're not into making this a bit funny and you want a stronger PSA message. I gotchu! This quarantine gift "six feet please" is in a typewriter font design for those who are book lovers. It carries the tone of subtle but firm of a stance.
This is a great gift for a maturer friend!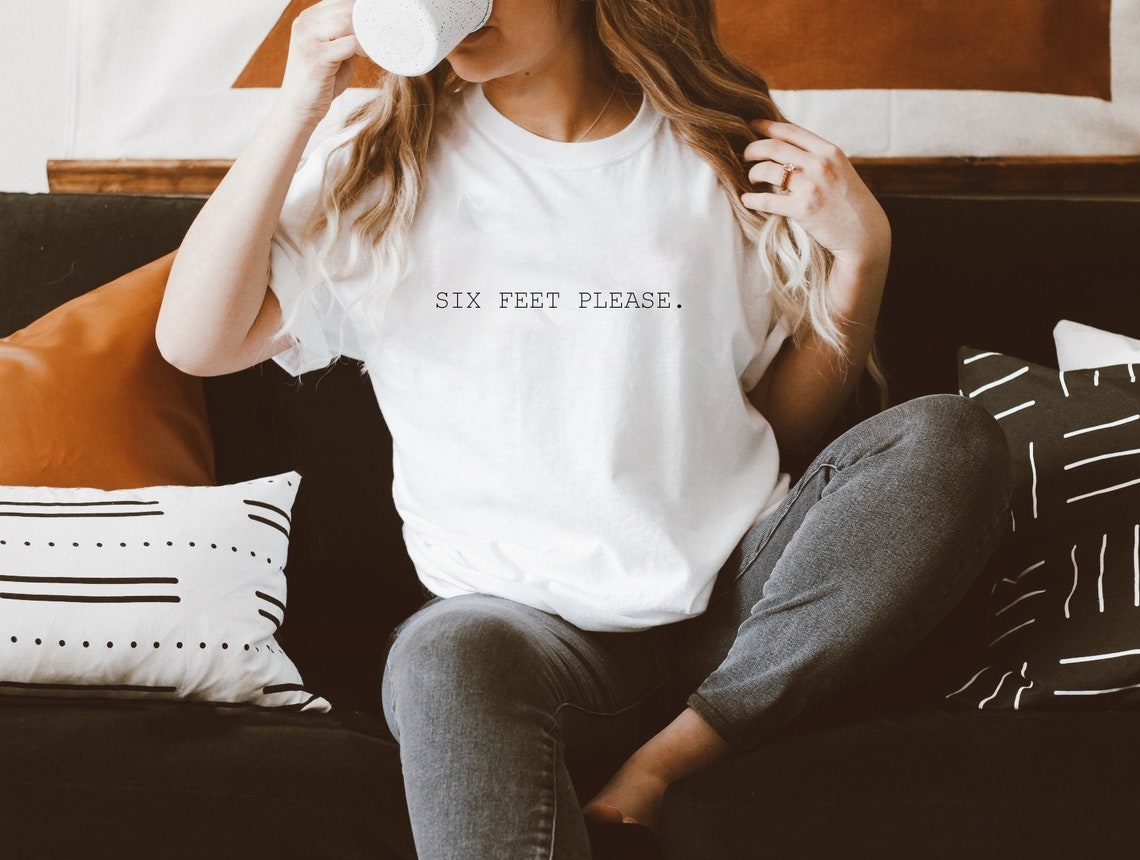 Get it from LiveLearnDreamShop on Etsy!
6. QUARANTINE QUEEN EST.2020
Calling all Quarantine Queens!
Know a friend, girlfriend, sister, aunt, mom, coworker, neighbor who has been dominated quarantine like a queen? This is the perfect gift for her that doesn't require any occasion because are already in one – a pandemic! Show her you care from afar and that you are thinking of her! Nothing like a little humor to get through these stressful times. 👑
Get it from LiveLearnDreamShop on Etsy!
7. Quarantine and Chill T-Shirt
This "Quarantine and chill" shirt is the perfect gift for:
• You, yourself, because you know this is going to be the norm for awhile at home during the quarantine
• Girlfriend, for her birthday, anniversary, or just because you love her
• Best friend who lives afar but a way to tell her you are thinking of her and to just have a good laugh in times like this
• Anyone who needs a breather during these unprecedented times!
Get it from LiveLearnDreamShop on Etsy!
---
To our community 🧡- [WE ARE OPEN – COVID-19 update]
Welcome to the Live Learn Dream shop! Treat yourself or give a premium custom printed apparel gift to fit your lifestyle around self-care, travel, k-pop, k-drama, k-food, games, everyday quotes, and more!
✨Due to the COVID-19 outbreak, our production time will take longer than 2- 7 business days. As of April 24th, we are currently seeing orders being fulfilled with a delay of a few days (production time of 13-16 days) but as the COVID-19 situation alters daily, we apologize for any future inconvenience, and please send us a message if you have any questions.
● We are offering *complimentary* shipping on all orders $35+ as most people are preferring to buy online.
● We are offering 10% automatic discount on all orders to help with everyone's situation.
I wanted to take a moment to say thank you to everyone who's been showing support to our business in this challenging time. For weeks now, the entire world is adapting to a new normal. It has been difficult for us to deal with the changes, and we're hoping it'll be over soon. We're staying in touch with our fulfillment partners about fulfillment and shipping delays. Here are
the estimates we are currently looking at:
● 13-16 business days for fulfillment (print shop is based in CA or NC, USA)
● 2-6 business days for shipping (USPS)
I know this isn't what you guys are used to, so I'm grateful for your patience as you continue coming back to our brand and enjoying our products. Some good news is, we now have more time to focus on some exciting designs we previously simply didn't have time for. Stay tuned for more additions to our collection!
Let's stick together, stay safe, and stay positive! Thank you for supporting small businesses!
Cheers
Cee